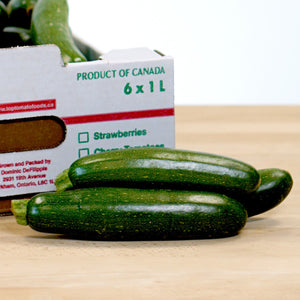 Did you know that zucchini means "small pumpkin" in Italian? Although it looks nothing like a pumpkin and more like a cucumber, a zucchini is in fact a type of summer squash.
Zucchini is an incredibly versatile vegetable. It's great to add to salads, stir fries or to grill on the BBQ. It's also great to use in baking, especially in muffins, breads or brownies to sneak some more vegetables into your diet!
You can also use a spiralizer to make zucchini noodles to substitute for traditional pasta or to make "lasagna sheets" for a low carb lasagna!
This product travelled 33.8 km to reach our warehouse.