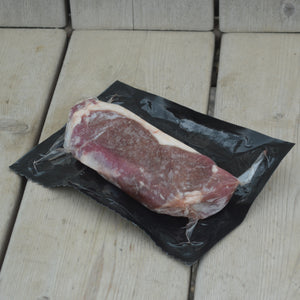 Tenderbuff Water Buffalo Striploin Steak (approx. 250g)
Kampkreek Dairies is a family owned and operated farm in Stratford, Ontario producing a wide variety of water buffalo meat and dairy products. Water buffalo meat is low fat, high protein, and has a wonderful flavour. 
Tenderbuff is the answer to the health conscious consumer wanting a red meat with the health benefits of white meats including low cholesterol. Use less spice and sauces as Tenderbuff meat releases more flavour than it takes in. Lean, juicy, and quick to cook. 
This product travelled ~150 km to reach our warehouse.