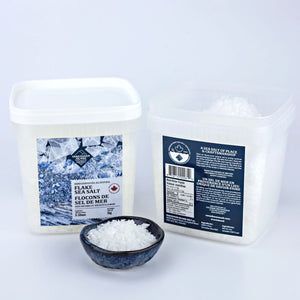 All Canadian sea salt flakes from Vancouver Island Salt! A beautiful finishing salt perfect for topping savoury dishes like, salads and desserts. 
Canada's first sea salt harvestry sits on a stunning 400 acre farm with over 2km of untouched ocean frontage on Shelter Point Farm in Oyster Bay. Salt is harvested in small batches by hand from the cold clear waters of the Canadian Pacific and processed in a carbon-negative operation using steam-fired kettles that are powered by recycled cooking oil.

This product travelled 4592 km to reach our warehouse.