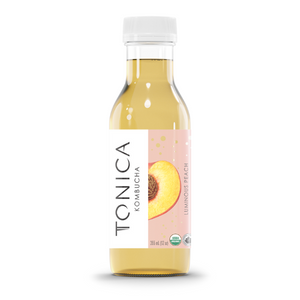 Dewy tree-ripe peaches blend with hydrating flower petals to leave you feeling sun-kissed with summer nostalgia. Alive with belly-friendly culture and 100% organic & delicious.
Luminous Peach is a fab skin tonic.
Peaches have been shown to contain several minerals as well as Vitamin A & C, which play an active role in regenerating skin tissue. Promoting collagen and reducing wrinkles are just a few of the reasons why this was a no-brainer to include in our Tonica family.
Tonica combines our enzyme-rich organic kombucha base with our favourite rooibos tea (Rooibos is packed with 50x more anti-oxidants than green tea, making it a super beauty ingredient and an effective measure to prevent premature aging). Into that incredible brew, we steep immune-boosting calendula petals, blackberry leaves, and zesty ginger pieces.
This bright skin beauty blend is packed with live digestive enzymes as well as several strains of good bacteria and healthy yeasts which occur naturally in our raw, living kombucha.
INGREDIENTS:
Kombucha (yeast and bacteria cultures), Organic evaporated cane juice Fermented Organic black tea & organic rooibos tea, Organic natural peach extract, Blackberry leaves, Ginger, Calendula petals, Carbon dioxide
This product travelled 19.5 km to reach our warehouse.