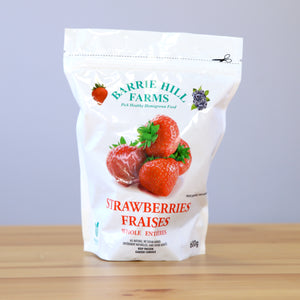 Frozen Strawberries locally sourced from Barrie Hill Farms. Sweet, tart and juicy, these strawberries are excellent eaten on yogurt or cereal, and used in smoothies, desserts or to make preserves.
Barrie Hill Farms is in Springwater, ON and is owned and operated by the Gervais family. They use Integrated Pest Management (IPM) as their first line of defense against pests and regularly scout crops for infestation or disease. Pesticide use is always as a last resort and they only approve low risk pesticides. The decision to use a pesticide on a crop is made based on considerations of long-term impact to their land, health and safety of their produce; not just economics.
Barrie Hill also engages in an entirely voluntary Environmental Farm Plan (EFP) that is assessed by a network of peers. This process has allowed them to make many crucial changes to their operations. Examples of this include using drip irrigation for their strawberry plants targeted towards the root zone (allowing the plant and fruit to stay dry). They also plant cover crops to restore nutrients, and where possible, rotate crops to improve soil quality and health.
This product travelled 90.1 km to reach our warehouse.