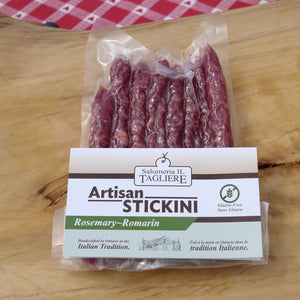 Tasteful, cured Rosemary flavoured Stickini pork salame. Serve with cheese and nuts or eat as a snack.
Salumeria Il Tagliere's products are Artisan made in Caledon, Ontario on a local family farm focusing on small batch, slow cured, high quality traditional Italian cured pork products.
Il Tagliere's products are made naturally with high quality ingredients, all individually selected with care and experience. Slow, natural curing methods result in authentic flavours and aromas that are sure to satisfy the most sophisticated palate. All products are allergen free and made with Ontario pork raised without the use of growth hormones or chemicals and are fed with Ontario grains.
This product travelled 50 km to reach our warehouse.