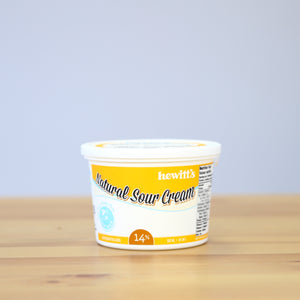 Nothing complements a meal like the silky texture of Hewitt's Sour Cream! With the richness of heavy cream and the acidity that all cultured dairy products have, Hewitt's sour cream is the perfect ingredient use for the base of your favourite dips, a refreshing addition to top a baked potato, quesadilla, taco or burrito or to use in your baked goods to create moist and flavourful cookies, scones, and cakes!
Hewitt's Dairy is known for it's high quality fluid milk and milk products, especially it's line of goat dairy products. 
This product travelled 117 km to reach our warehouse.