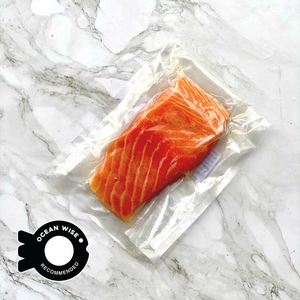 Sourced by the team at Kolapore Springs, this Steelhead Salmon is sustainably farmed in Lois Lake, British Columbia. Perfect candidates for aquaculture due to their high feed-to-protein conversion, these fish are grown using floating, closed-containment fiberglass pens. These large pens eliminate the risk of accidental release, and subsequent competition with native fish populations.  
This fish has been ethically and sustainably farmed by the team at Kolapore Springs. In operation since 2009, Kolapore Springs Fish Hatchery takes great care to ensure that their fish stocks are well maintained and never over-crowded. Access to cool, nutrient rich water and naturally enriched food gives this fish a beautifully firm flesh and absolutely fantastic flavour. 

This is a 5oz piece.
This product travelled ~181 km to reach our warehouse.
This product is Ocean Wise Recommended.