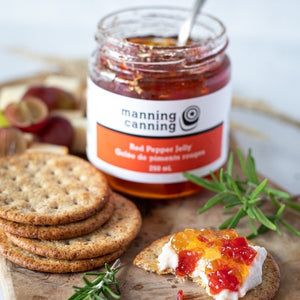 Soft cheese, sharp cheese, blue cheese, hard cheese. It doesn't matter. This sweet-with-heat jelly is the perfect compliment to them all.
Manning Canning is founded on the idea that if you make an exceptional product, you'll always have customers. When Christine began sharing her products with friends and family, word got out. This led to a farmers market stall, a small but loyal following, and finally our first store order. From there, they built a production facility which we also made available to other small food brands so they could start and grow. Now, they're in over 200 locations, from bars and restaurants to specialty stores and major grocery retail chains!
This product travelled 18.2 km to reach our warehouse.