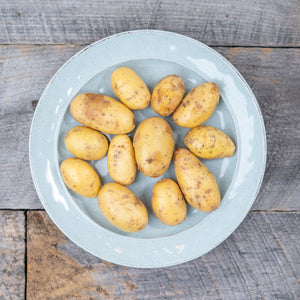 Yellow Fingerling potatoes are long and ovular in shape, with a smooth skin and yellow flesh. These potatoes have a creamy, fluffy texture when cooked, and are best enjoyed roasted, boiled, or steamed, remaining slightly firm after cooking.
Cookstown Greens is a family-run, organic farm located 1 hour north of Toronto, in Essa township. They leave part of their land untouched and use non-intensive farming methods, which contributes to their farm's biodiversity. They are well known for our quality and flavour of their products.
This product travelled 74.8 km to reach our warehouse.