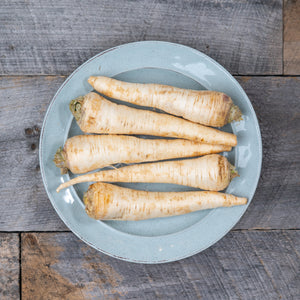 These organic parsley roots from Cookstown Greens look similar to parsnips, with a white skin and flesh. Their flavour is often likened to celeriac, parsnip, and carrot, and can be used as a substitution for any of these. Cookstown suggests adding these in a 1/3 ratio to for a fun twist on your mashed potatoes! Peel before using.
Cookstown Greens is a family-run, organic farm located 1 hour north of Toronto, in Essa township. They leave part of their land untouched and use non-intensive farming methods, which contributes to their farm's biodiversity. They are well known for our quality and flavour of their products.
This product travelled 74.8 km to reach our warehouse.