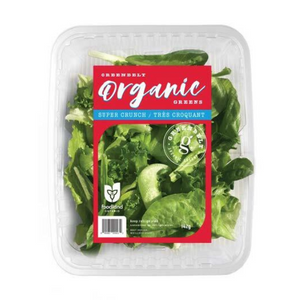 A mix of green lettuce blended with sweet pea, spicy arugula and mustard.
Farmer owned and operated, Greenbelt Greenhouse's mission is to fill the bellies of Ontarians with nutritious and delicious greens. Greenbelt Greenhouse founder, Ian Adamson, is Toronto born and raised between the Yukon and Ontario. Ian has over 15 years of growing experience, focusing Greenbelt's operation on nutrient dense soils, organic growing principles, and quick turnaround between harvest and the kitchen.
Greenbelt Greenhouse greens are grown in the GTA in nutrient-dense soil and are certified organic.
This product travelled 85.6 km to reach our warehouse.