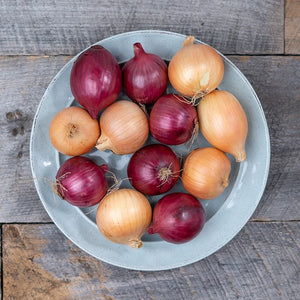 Enjoy a mix of organic red and yellow onion from Cookstown Greens! 

Red onions have a deep purple, papery skin with a reddish flesh. These onions are sweet when cooked and are ideal for pickling or grilling on the BBQ.

Yellow onions have a greenish-white, light yellow, or white flesh with a pungent flavour when served raw. They sweeten upon cooking and are best for caramelizing or roasting. 

Both varieties are great in sautés. 
Cookstown Greens is a family-run, organic farm located 1 hour north of Toronto, in Essa township. They leave part of their land untouched and use non-intensive farming methods, which contributes to their farm's biodiversity. They are well known for our quality and flavour of their products.
This product travelled 74.8 km to reach our warehouse.