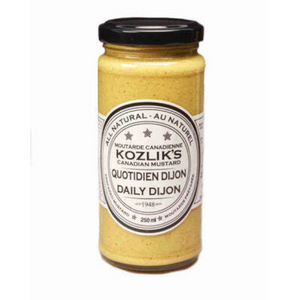 This mustard is characterized by its creamy texture, spicy taste (with a touch of heat to the nose), and smooth finish.
Kozlik's Canadian Mustard was established in 1948 and has remained family owned and operated to this day, producing hand-made mustard in small batches. They are committed to sourcing the finest quality ingredients to make the best-tasting mustard possible. 
Ingredients: Mustard Seed, Distilled White Vinegar, Water, White Wine Vinegar, Spices, Sea Salt, Natural Flavour
This product travelled 20.7 km to reach our warehouse.