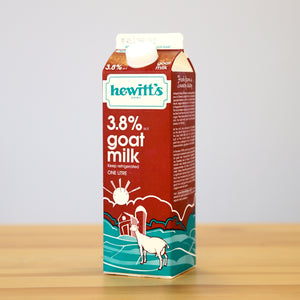 Hewitt's goat milk is a wholesome alternative to cow milk, containing more natural vitamin A and B (Vitamin B3 or Niacin is nearly double to that of cow milk). Lactose sensitive folks intolerant to cow milk often are able to consume goat milk with no adverse affect.

Ingredients: 100% Ontario goat milk
Hewitt's Dairy is known for it's high quality fluid milk and milk products, especially it's line of goat dairy products.
This product travelled 117 km to reach our warehouse.