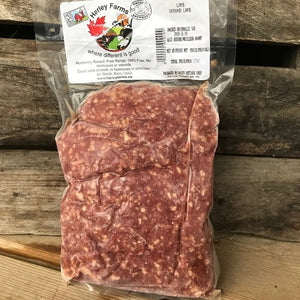 High welfare, organic principled ground lamb raised in Keene, Ontario. 

The farming system at Harley Farms is grounded in the belief that animals should be raised as humanely and naturally as possible. The goal is to produce livestock and crops in a way that aligns with the surrounding natural environment and with a special focus on animal and bird welfare. As a result, customers can have confidence that Harley Farms products are fully traceable and come from livestock which are humanely and sustainably raised. Harley Farms is also certified by the SPCA. 

This product travelled 145 km to reach our warehouse.