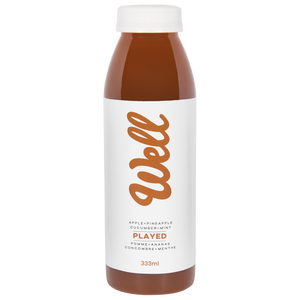 Well Played is the ultimate digestive aid. Pineapple is a source of bromeliad, an anti-inflammatory enzyme that breaks down proteins to ease digestion; apple provides potassium to help manage internal acid-base balance and break down carbs; cucumber is hydrating; and mint helps sooth digestion and stomach inflammation.
Ingredients: Pineapple, apple, cucumber, mint

Well offers 100% cold pressed juices, without added sugar, colouring or water. Well juices and shots are made with local fresh produce and are kosher and gluten free. 
Well was started in a Calgary apartment in 2014, inspired by travelling throughout Europe and the high-quality juices offered. Incorporating high-pressure processing in 2018 allowed Well to offer the most nutrient-dense juice on the market. Well never uses preservatives or additives, and has become the first nationally distributed cold-pressed juice brand in Canada with the highest food safety certifications. 
This item travelled 11.8km to reach our warehouse.