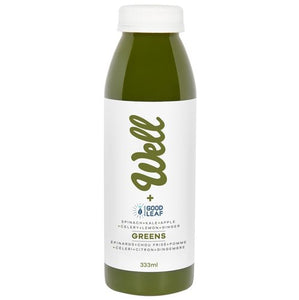 Well Greens is the super cleanser containing two types of kale and tons of B-complex vitamins to help you generate energy and support the function and production of red blood cells. The celery juice replaces lost electrolytes, rehydrates the body, and aids in the elimination of toxins.
Ingredients: Kale, spinach, celery, apple, ginger, lemon

Well offers 100% cold pressed juices, without added sugar, colouring or water. Well juices and shots are made with local fresh produce and are kosher and gluten free. 
Well was started in a Calgary apartment in 2014, inspired by travelling throughout Europe and the high-quality juices offered. Incorporating high-pressure processing in 2018 allowed Well to offer the most nutrient-dense juice on the market. Well never uses preservatives or additives, and has become the first nationally distributed cold-pressed juice brand in Canada with the highest food safety certifications. 
This item travelled 11.8km to reach our warehouse.