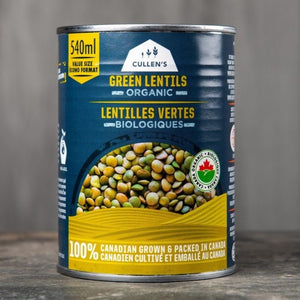 Grown by the Chubb family of Stongehenge Organics in Limerick, SK, these canned green lentils from Cullen's are packed with antioxidants, iron, and magnesium. Delicious in curries, fresh bowls and salads. 
All of Cullen's lentils are 100% Canadian grown and certified organic, which means they are non-GMO and produced without the use of chemicals. Canned without any additives whatsoever (not even salt!).
This product travelled ~34 km to reach our warehouse.