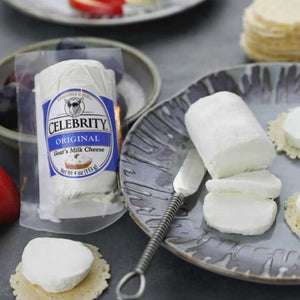 Mariposa Dairy's Celebrity Plain Goat Cheese is made with 100% pure goat's milk. This cheese is creamy, mild, slightly tangy, and fresh. This goat cheese is perfect to spread on a cracker or crumbled on a salad. Celebrity's goat cheese is made with pasteurized goat's milk, sea salt, potassium sorbate, microbial enzyme, bacterial culture.
All of Mariposa Dairy's goat and sheep milk cheeses are made in true "Celebrity" style. Sea salt is added to the cheese which brings out the delicate flavour – and does not add unwanted iodine to the health conscious diet. Animal rennet free, this 100% pure goat and sheep milk cheese is made exclusively from Ontario milk.
This product travelled 23.6 km to reach our warehouse.