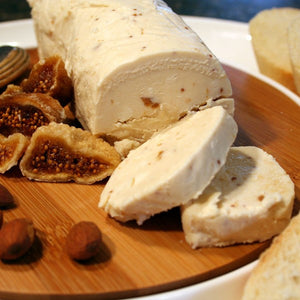 Mariposa Dairy's Celebrity Fig Chèvre is infused with premium award-winning Fig Spread. The pureed fig gives the cheese a touch of sweetness as well as an unmistakable aroma of fig. This cheese has tiny flecks of fig that tint the chèvre with a hint of peach colour. The flavour of fresh goat cheese has long been paired with the almost molasses-like sweetness of figs. This goat cheese is perfect for stuffing pork or chicken breasts, or spread on crusty bread. 
All of Mariposa Dairy's goat and sheep milk cheeses are made in true "Celebrity" style. Sea salt is added to the cheese which brings out the delicate flavour – and does not add unwanted iodine to the health conscious diet. Animal rennet free, this 100% pure goat and sheep milk cheese is made exclusively from Ontario milk.
This product travelled 23.6 km to reach our warehouse.