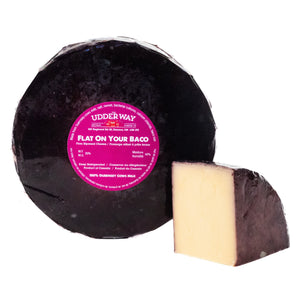 "Flat On Your Baco" is an Italian Alpine style cheese made from 100% Guernsey Cow's milk and aged in Baco Noir.
Located in the Stoney Creek countryside, The Udder Way Artisan Cheese Co. offers a variety of Handmade Cheeses, following traditional recipes from Europe using locally sourced "Golden Guernsey", Goat and Sheep's Milk. 
This product travelled 82.5 km to reach our warehouse.