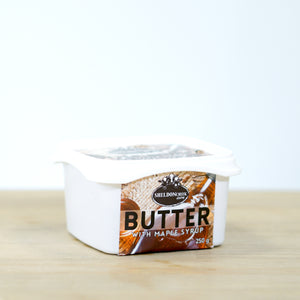 Infused with local maple syrup, this maple infused butter is naturally sweet and satisfying. Slather liberally on your favourite muffin or scone or dollop a nice spoonful onto a bowl of oatmeal or pancakes! 
Sheldon Creek uses a single-herd, pastured during the Spring and Summer. Their milk and milk products are natural and minimally processed!
This product travelled 73.8 km to reach our warehouse.