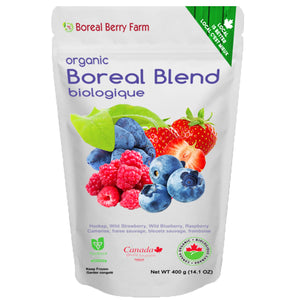 A bountiful Antioxidant Blend of Haskap, Blueberries, Strawberries and Raspberries, Boreal Blend is a perfect mix of your favorite fruits.

Use in smoothies, fruit salads, serve as a warm compote, sprinkle on cereal, or just as is for a healthy boost! This tasty blend is guaranteed to please your taste buds with our revitalizing antioxidant rich berries! Grown on Boreal Berry Farms, in Northern Ontario.

This product travelled ~365 km to reach our warehouse.