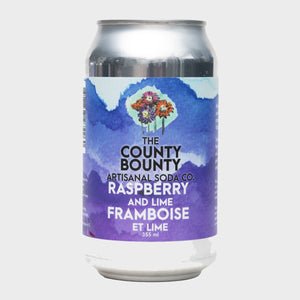 This delicious combination is made from 'Boyne' raspberries because of their rich colour and intense flavour, along with freshly squeezed lime juice. The County Bounty team mix it up with both white and brown sugar to give this drink lots of body. It is pure summer fun in a bottle and your mouth is sure to loves every sip! This is their most popular flavour.

Ingredients: Carbonated water, raspberries, fair trade sugar, lime juice, brown sugar.
Nutrition: 355mL serving, 116 calories, 29g sugar
The County Bounty began in 2016 as an organic vegetable farm in Prince Edward County that found it's footing in the farm-to-table drinks space. Although no longer a farm, this all-female company is dedicated to sourcing ingredients from Ontario farmers, paying a fair price for produce, and contributing to a thriving rural economy. 

This product travelled 220 km to reach our warehouse.