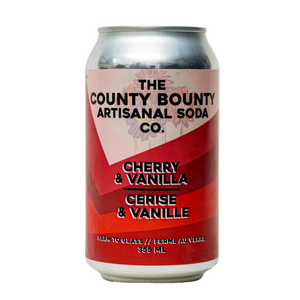 You asked, we made it! Here's something a little more approachable for those looking for a 'cola' style drink. Ontario sour cherries, with lots of brown sugar and molasses notes make for a VERY crushable can. When Mike at The County Bounty is entertaining, he likes to mix this with Amaretto and a splash of lemon juice. His guests love it, but you could always go with a classic rum and "cola" style drink.
Ingredients: Carbonated water, sour cherries, sugar, vanilla extract, citric acid.
Nutrition: 355mL serving, 93calories, 24g sugar
The County Bounty began in 2016 as an organic vegetable farm in Prince Edward County that found it's footing in the farm-to-table drinks space. Although no longer a farm, this all-female company is dedicated to sourcing ingredients from Ontario farmers, paying a fair price for produce, and contributing to a thriving rural economy. 

This product travelled 220 km to reach our warehouse.