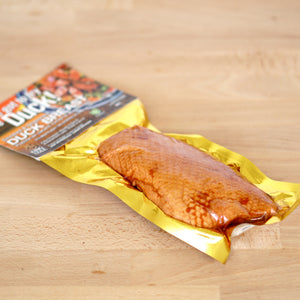 King Cole Ducks take premium-grade boneless duck breasts and cook it using Canadian rock maple for the just the right hint of smoky flavour. This versatile product is used widely around the world: from restaurants and cruise ships to home kitchens like yours. Fully cooked and ready to serve! 

Ingredients: Duck, water, salt, sugar, sodium phosphate, sodium erythorbate, sodium nitrate, smoke
How To Prepare:

This smoked breast is fully cooked and can be sliced and served cold. To serve hot:

Carefully score the skin (only) in a criss-cross pattern.
Place skin-side down in a cool skillet or pan.
Turn heat on to Med-High for approx. 10-minutes or until skin crisps to your liking.
Let breast stand for 1- 2 minutes, then slice diagonally and serve.
This product travelled 47.2 km to reach our warehouse.