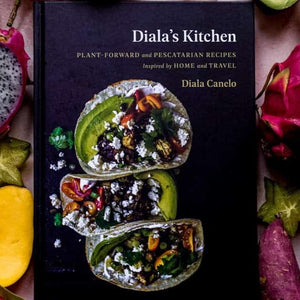 Diala's Kitchen: Plant-Forward and Pescatarian Recipes Inspired by Home and Travel
Author: Diala Canelo
Published: 2020
Details: Hardcover
Food and travel writer Diala Canelo shares 100 healthy, vegetable-forward recipes inspired by her international travel.
On any given day, you'll find Diala Canelo travelling around the world, walking the streets of her favourite cities-- including Barcelona, Paris, Melbourne, Mexico City, Florence, and Santo Domingo, where she grew up near the sea--places that inspire her flavourful and nourishing cooking. Influenced by local flavours, fresh ingredients, and a passion for healthy meals made from scratch, Diala's recipes embrace the beauty in simply prepared, vegetable-forward, pescatarian-friendly cooking. Diala's Kitchen is a collection of bold and flavourful recipes inspired by home and travel, with stunning food and photography from afar, that food-lovers will want to cook and enjoy with family and friends. With over 100 recipes including Salmon Tacos with Chipotle Crema, Blackened Fish with Creamy Yucca Fries, Wild Mushrooms Over Creamy Polenta with Mascarpone, Coconut Flan, Salted Caramel and Vanilla Pots de Crème, and Caramelized Banana and Cinnamon Loaf, Diala will take you to all the corners of the world and animate your kitchen with lively flavours.
About the Author:
Diala Canelo is the recipe creator and writer of Diala's Kitchen, a food and travel blog where she shares recipes inspired by her trips around the world. She grew up near the sea in Dominican Republic, and later moved to Canada where she fell in love with all things cooking and baking. She graduated from Le Cordon Bleu in Mexico City, where she obtained a Grand Diploma in pastry and bread making. Her diverse travel experiences as a flight attendant have given her the chance to taste food from many different cultures and share her gorgegous photography. Diala has been featured on Food52, The Feed Feed, and Flare magazine. She lives near Toronto, Canada with her daughters, Isabella and Gabriela, her partner, Warren, and their two pets, Oliver and Blue.