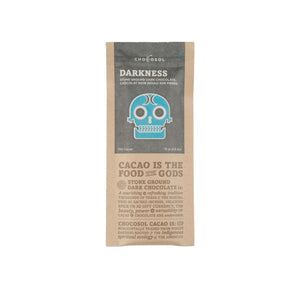 A beautiful expression of ChocoSol's house-blend of cacao, this classic dark chocolate is one of their simplest. A mid-range dark chocolate, this bar is best for enjoying the pure, full-bodied flavour of our feature cacaos. In celebration, each bar is finished with a whole cacao bean.

Ingredients: Roasted cacao nibs, raw cane sugar, cacao butter.
All ChocoSol chocolates range between 65% to 100% cacao content, are low-sugar, and are free of dairy, soy, gluten, nuts, preservatives, fillers, and artificial flavours! They only use simple, whole-food ingredients to change the flavour and texture of their chocolate bars. 
Enjoy each bar on its own or add it your favourite baking recipe!
This product travelled ~5.9 km to reach our warehouse.