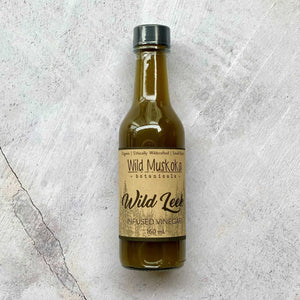 All of Wild Muskoka Botanicals' infused vinegar start with locally made organic, raw, unpasteurized apple cider vinegar and are infused with wild foraged plants from the Muskoka region.
Infused vinegar is wonderful used in salad dressings, marinades or simply drizzled on steamed veggies or any other culinary creation you can imagine.
Wild Leek (Allium tricoccum) leaves are harvested in the early spring and have a strong pungent flavour and smell which is best described as a mix of onion and garlic. This vinegar is best enjoyed fresh as a finishing sauce or served with bread and oil to fully experience their wild flavour and aroma. Wild Leeks or 'Ramps; are a very popular wild food that has over-harvested in many parts of its range. We use only the leek leaves which allows us to sustainably harvest the flavour of ramps without killing the plants.
Ingredients: Organic apple cider vinegar, natural wild leek leaf extract.
This product travelled 230 km to reach our warehouse.