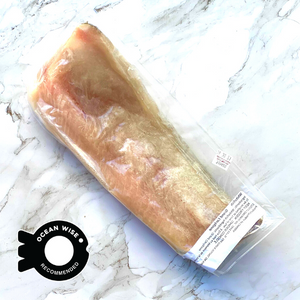 Wild-caught in Canada's Lake Huron, this lake whitefish from the team at Kolapore Springs is sustainably sourced through gillnetting and trap fishing. The efforts in place result in minimal bycatch and the maintenance of the large and valuable lake whitefish fishery in Lake Huron. 
In operation since 2009, Kolapore Springs Fish Hatchery takes great care to ensure that their fish stocks are well maintained and never over-crowded. Access to cool, nutrient rich water and naturally enriched food gives this fish a beautifully firm flesh and absolutely fantastic flavour. This sustainable and organic hatchery produces very little waste, with the inevitable fish excrement collected and harvested for fertilizer.
This product travelled ~181 km to reach our warehouse.
This product is Ocean Wise Recommended.