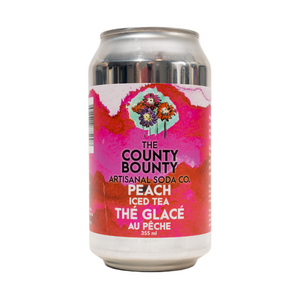 This iced tea is a juice and tea combination, with no sugar added. The peach juice refreshes you followed by the flavours of the steeped green tea to mellow you out.
Ingredients: Steeped green tea, peach juice, citric acid. 
Nutrition: 355mL serving
The County Bounty began in 2016 as an organic vegetable farm in Prince Edward County that found it's footing in the farm-to-table drinks space. Although no longer a farm, this all-female company is dedicated to sourcing ingredients from Ontario farmers, paying a fair price for produce, and contributing to a thriving rural economy. 

This product travelled 220 km to reach our warehouse.