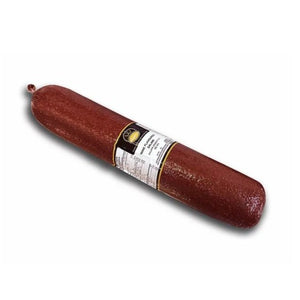 Wagener's Meats' mini wine salami is fully fermented and dried product and needs to be refrigerated before and after opening. 

This product is Certified Gluten-Free.
Ingredients: Pork, salt, corn syrup solids, spices, sodium erythorbate, lactic acid starter culture, sodium nitrate, sodium nitrite, smoke.

Located in Etobicoke, Wagener's Meat has been a family run business since 1966 and has been producing the finest quality deli meat products using traditional family recipes and methods in their Etobicoke plant.

Their product line is extensive and includes such award winning meat products as sausages, bacon, cold-cuts, poultry, chicken, turkey, ham, pork, salami, pepperoni, aspic, liver sausage, pate, smokies and wieners. The best beef, pork, poultry, herbs and spices are used to make their Ontario meats, which are made by hand and are smoked on-site in their Toronto plant.

Their products are made fresh weekly and delivered to 100km Foods!

This product travelled 13.3 km to reach our warehouse.