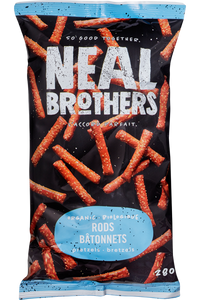 Hot Rods! These pretzel rods from Neal Brothers and made with organic flour, and are the perfect size and shape for dipping!

Dietaries: Contains soy and wheat
Allergen Alert: This product is manufactured in a plant that processes/uses chocolate, cinnamon, gluten, honey, peanuts, sesame, soybean oil, and other soy products, tree nuts, and wheat flour.
This product travelled 27.8 km to reach our warehouse.