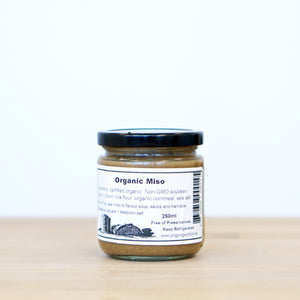 Organic Miso Paste from Ying Ying Soy Food is everything you want in a Miso. A family recipe that is only produced in small batches with an extended fermentation period of 6+ months. Miso is a fermented paste that adds a salty umami flavor to any dish, commonly used in Japanese cuisine. Perfect to use in soups, marinades, salad dressings, dips & more. 
Ying Ying Soyfood uses no chemical additives to reflect their belief that food needs to be pure and clean. They also only use Certified Organic, Non-GMO soybeans grown in Ontario.
This product travelled 34.9 km to reach our warehouse.