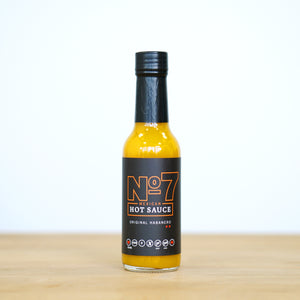 This No.7 Habanero hot sauce started the official line of hot pepper sauces! 

The Habanero pepper is coming in at 100,000 to 300,000 on the Scoville Scale but has been tamed with the addition of ingredients like carrots, apple cider vinegar and others, allowing the heat and flavour to be equally special in this Original No.7 Blend.

Ingredients: Habanero peppers, carrots, onions, garlic, apple cider vinegar, water, cloves, oregano, bay leaves.
This product travelled 6 km to reach our warehouse.