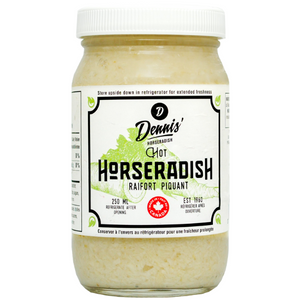 Hot Horseradish has an intensity and kick. The coarse grind and fresh ingredients allow the homegrown root to reach it's flavour potential. Hot retains the flavour of Original, while ramping up the heat intensity. 
Heat Rating: 4/5
Recommended Pairings: Marbled cuts of beef, deli meats, spicy caesars, sliced tomatoes.
Ingredients: Horseradish, Vinegar, Salt, Natural flavours, Sodium metabisulphite
Dietaries: Vegan, Gluten Free, Kosher
A proud, 60-year-old Norfolk County brand, Dennis' Horseradish was founded by Dennis Gyorffy in 1960. At Dennis', the entire process is controlled from end to end, ensuring only the finest root and ingredients end up in everything they make. At Dennis' Horseradish, they harvest, process, grind, fill and pack it all themselves to guarantee they produce only the hottest and best horseradish in Canada.
Headquartered in Delhi, everything remains local and handcrafted in small batches. Root is now grown by Lyndsay Menich and Drew Patterson in nearby Teeterville, who are committed to ethical farming and to continuous innovation. All of Dennis' Horseradish products are vegetarian, all-natural, gluten-free and kosher. 
This product travelled 155km to reach our warehouse.