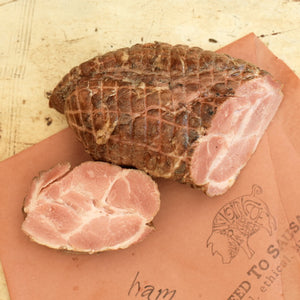 Seed to Sausage uses the simplest process in the preparation of their house cured ham so that the flavour of the ham speaks for itself. A basic cure, hickory-smoked in-house and lightly salted with no added phosphates. Gluten free.​ These are sold per piece and each piece are generally around ~1.3kg. 
Seed to Sausage is based in Ottawa, ON and specializes in charcuterie and sausages. Mike's goal at Seed to Sausage is use local ingredients wherever possible, and with as few additives as possible. The end result: a fantastic line of cured meat products.
This product travelled 291 km to reach our warehouse.