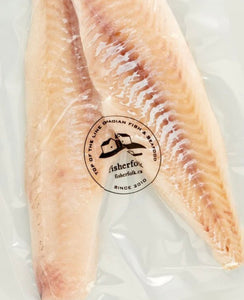 Kolapore Spring has teamed up with Fisherfolk to grow their frozen vac packed fish offering. Lean, mild and sweet. Wild caught using long line fishing techniques year-round in Nova Scotia off the Scotian Shelf.
In operation since 2009, Kolapore Springs Fish Hatchery takes great care to ensure that their fish stocks are well maintained and never over-crowded. Access to cool, nutrient rich water and naturally enriched food gives this fish a beautifully firm flesh and absolutely fantastic flavour. This sustainable and organic hatchery produces very little waste, with the inevitable fish excrement collected and harvested for fertilizer.

This product travelled ~181 km to reach our warehouse.

This product is Ocean Wise Recommended.