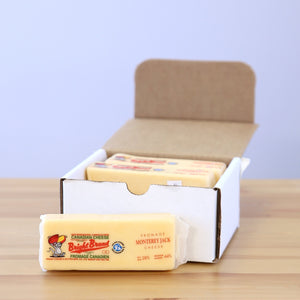 This local Monterey Jack cheese from Bright's Cheese & Dairy is a delicious addition to any sandwich, grilled cheese, mac and cheese, fondue or omelette! This delicate, white cow's milk cheese is great for melting. 
Bright's Cheese & Dairy is the oldest surviving dairies producing cheddar in Ontario. It was begun by a group of farmers who wanted to use up a surplus of milk from production. By the 1900's, cheddar cheese was actually Canada's second biggest export!

This product travelled 117 km to reach our warehouse.