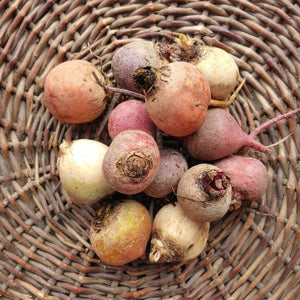 These gorgeous organic beets from Cookstown Greens are the perfect way to add a brilliant splash of colour to your meal. Rich red, creamy white, deep golden and candy cane organic beets. 
Cookstown Greens is a family-run, organic farm located 1 hour north of Toronto, in Essa township. They leave part of their land untouched and use non-intensive farming methods, which contributes to their farm's biodiversity. They are well known for our quality and flavour of their products.
Through a variety of methods such as green manure rotation, compost, and sub surface irrigation (this uses 30-40% less water than sprinkler methods), they foster a healthy ecosystem on their farm.
This product travelled 74.8 km to reach our warehouse.