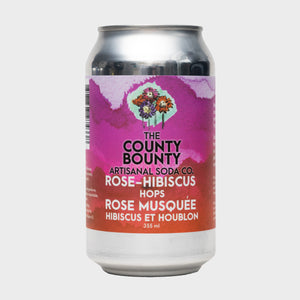 This flavour has been best described as an "adult cream soda". The rosehips and hibiscus pack a big punch and the bitter hops bring you back down to earth. This soda is light, cheerful, and has many people hooked! No other flavour, when loved, is loved as much.

Ingredients: Carbonated water, fair trade sugar, hibiscus, rose hips, safflor, juniper berries, black currants, flavours, hops, citric acid.
Nutrition: 355mL serving, 85 calories, 22g sugar
The County Bounty began in 2016 as an organic vegetable farm in Prince Edward County that found it's footing in the farm-to-table drinks space. Although no longer a farm, this all-female company is dedicated to sourcing ingredients from Ontario farmers, paying a fair price for produce, and contributing to a thriving rural economy. 

This product travelled 220 km to reach our warehouse.