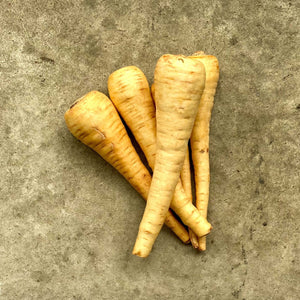 Parsnips are a sweet root vegetable resembling a thick, beige carrot. Parsnips, like potatoes, are extremely versatile and can be roasted, puréed, mashed or made into chips and fried. 
For 4 generations, Hillside Gardens has taken pride in the freshness and quality of their crops. With the help of OMAFRA, Hillside Gardens has implemented an innovative traceability system that has earned them the Local Food Plus certification, as well as the Minister's Award for Agri-Food Innovation Excellence.

This product travelled 44.6 km to reach our warehouse.