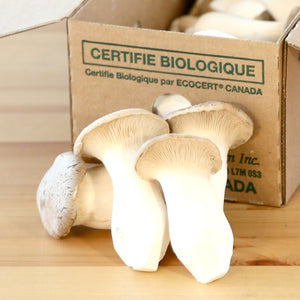 These Organic King Oyster Mushrooms from Enviro Mushroom Farm are firm and meaty in texture with a delicate, woodsy flavour. Great for BBQ, roasting, grilling, sautéing, deep frying and baking. Excellent for pasta, or paired with meat or seafood!
Enviro Mushroom Farm grows, packs and markets varieties of specialty mushrooms in the most up-to-date and environmentally controlled facilities. The certified organic specialty mushrooms grown at the Enviro's hygienic computer-controlled growing and packing facilities ensure the mushrooms grow in ideal conditions and stay fresh and clean always.
This product travelled 56.4 km to reach our warehouse.