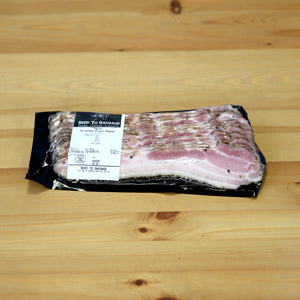 Classic smokey, salty local bacon slices sourced from Seed to Sausage! Seed to Sausage makes their bacon with antibiotic-free pork, and they use the absolute lowest quantities of nitrates permitted by the CFIA with no phosphates and water. In fact, Seed to Sausage reduces 20% of water from the natural pork belly, so the end yield is much higher than industrial bacon, where water is typically added with real pork flavour and the perfect bacon texture. 
Looking for gluten-free bacon? This Seed to Sausage bacon is also 100% gluten free!

This product travelled 291 km to reach our warehouse.