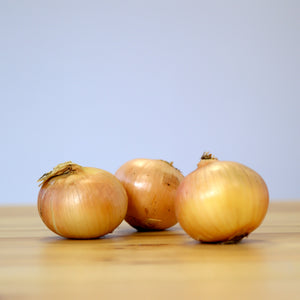 Yellow onions are what we'd call the all-purpose onion. Yellow onions are the most widely used onion and have a nice balance of astringency and sweetness in their flavour, becoming sweeter the longer they cook. Yellow onions are the perfect onion to caramelize and use as the base for a variety of dishes. These yellow onions come from Hillside Gardens.
For 4 generations, Hillside Gardens has taken pride in the freshness and quality of their crops. With the help of OMAFRA, Hillside Gardens has implemented an innovative traceability system that has earned them the Local Food Plus certification, as well as the Minister's Award for Agri-Food Innovation Excellence.
This product travelled 44.6 km to reach our warehouse.