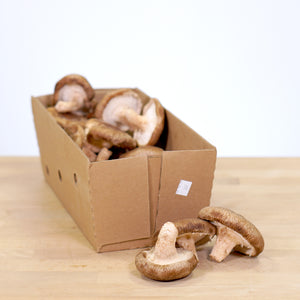 Shiitake mushrooms are one of the most popular mushrooms worldwide. They are prized for their rich and savoury taste and meaty texture. 
These shiitake mushrooms are from Unionville Mushrooms, a family owned and operated business that was established in 1972. With their mushroom farm in Stouffville, Ontario, Pasquale Calitri and his son-in-law Ralph Auciello have worked diligently throughout the years to build the name of Unionville Mushrooms to what it is today.

Unionville Mushrooms is one of the biggest Mushroom suppliers in the industry while being among at producing consistently good quality products.
This product travelled 27.9 km to reach our warehouse.